For a second year, visitors Christmas in Davidson will have an important role to play in a fundraiser organized by Davidson Rotary Club: We're being asked to pick our favorites from among more than a dozen trees decorated by local businesses and organizations. The trees are decorated and waiting on the north side of the Village Green, and votes will be taken nightly during the downtown holiday festival Thursday to Saturday.
The event is a fund-raiser for Rotary charities, including the Ada Jenkins Center, Davidson Cornelius Child Development Center and other groups. Festival-goers can help in two ways: Visitors can vote for their favorite tree by purchasing a ticket for $1. The Rotary also is selling fresh Frasier Fir wreaths: Made in North Carolina, $25 for non-decorated and $50 decorated.
The Rotary Club of Davidson meets every Tuesday at Sabi Asian Bistro from 5–6pm. Guests and new members are welcome.
OTHER FUNDRAISERS
There are a variety of fundraisers associated with Christmas in Davidson this year. Here are a couple. Have one to add? Post the information in a comment below or email editor David Boraks, editor@davidsonnews.net
In honor of its 25th year, Christmas in Davidson is undertaking a collection of 25-cent pieces,in glass jars at South Main Square and the Village Green. Proceeds go to the Davidson Lands Conservancy.
CrossFit Davidson will be collecting used cell phones to donate to the non-profit organization Cell Phones for Soldiers Inc. Drop off your used phones at their tent in front of Summit Coffee any of the three nights. CrossFit also is taking over a tradition formerly hosted by BB&T Bank before it moved its branch to the Exit 30 area: Letting kids make "magical reindeer food," sparkly feed that's supposed to help attract Santa's sleigh.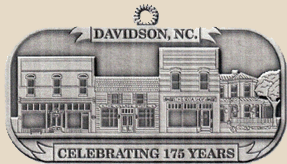 The Davidson Historical Society will be raising money through sales of this year's holiday ornament, celebrating the 175th anniversary of the town. The pewter ornaments are $15 and feature several historic buildings in the downtown business district. It's the 5th in a series of annual pewter holiday ornaments from the Davidson Historical Society. They'll be for sale at the society booth on the Village Green, and all month at Davidson Chocolate Co., Main Street Books, The Village Store and Wooden Stone.
The Preserve Dog Park in the St. Alban's neighborhood will receive proceeds from this year's Doggie Fashion Show, scheduled Friday night at 7 o'clock in front of the public library on the Davidson Green. To register, send an email to Davidsonpaws@yahoo.com with the dog's and owner's names, Davidson tag number or other city dog tag number. Be sure to include your pet's special talents or planned show attire. Though talent is optional, dogs should be prepared to answer questions about world peace and global warming. Registration is $5.
Mayor John Woods and police Sgt. Scott Misenheimer will be the celebrity bartenders Thursday night, Nov. 29, at Flatiron Kitchen + Taphouse. All tips will help support the Ada Jenkins Center. We hear they'll be all dolled up in humorous seasonal attire. Flatiron is at 215 S. Main St.